In the 19th century, German immigrants constituted a very large immigrant group in the USA. Especially many settled in Iowa and Illinois. German immigrants are the second largest immigrant group to settle in Iowa. The most emigrants from Taben, Rodt (Roth) and Hamm (today: Taben-Rodt) also preferred these areas.
They were part of that wave of German immigrants who came to Iowa in the 19th century, they created much of the state's built environment. German Iowans cleared land, built farms and towns and more.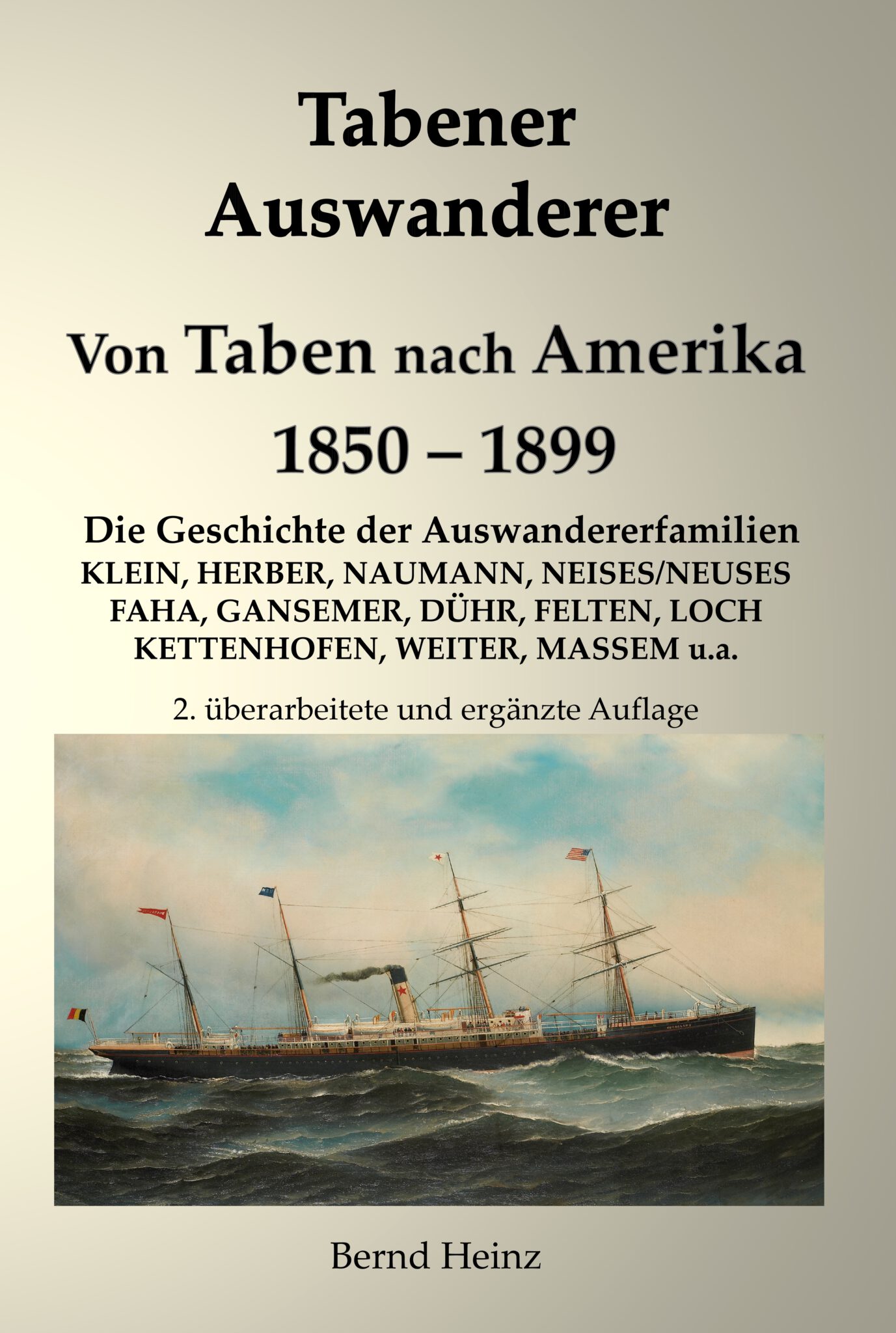 In April 2022 a supplemented edition was published.
Immigrants from Taben-Rodt settled in IOWA, Illinois, Canada in the 19th century. The motives, the journey and the experiences in the new home in America (IOWA, Dubuque, Deyersville, Illinois…) are described in this book with many families.
My place of residence, the small village of Taben-Rodt, situated high above the western bank of the Saar River, close to the border with France and Luxembourg, showed a steady population growth over the past centuries. In the last third of the 20th century, the maximum value was reached with about 1,000 inhabitants (in Taben-Rodt and Hamm).
In the middle of the 19th century, however, poverty, lack of economic prospects and disproportionate population growth led to a drastic development for Taben-Rodt: In a period of only 50 years, more than 100 inhabitants (about 20% of the population at that time) left their place of residence (Taben, Rodt, Hamm) and sought a "new better life" in North America. Today, at the beginning of the 21st century, the memory of these emigrated families is largely forgotten, only a few photos with the subtitle Photograph Dubuque suggest that these photos could have been taken by emigrants from the "New World".
In this book is described the history of the following families: Klein, Herber, Naumann/Nauman, Neises/Neuses, Faha, Gansemer, Dühr/Duehr, Felten, Loch, Kettenhofen/Kettenhoven, Weiter, Massem.
Content
Most immigrants settled or resided in Iowa,
Dubuque County, Jefferson County, Peru County, Buena Vista, Osceola; Dubuque-city, Sherrill, Balltown, Dyersville, Okanogan, Camp Springs.
This book "Tabener Auswanderer – Von Taben nach Amerika" (Literally translates as "Taben Immigrants – From Taben to America") attempts to provide as complete a listing as possible of all emigrants from Taben, Rodt and Hamm and to show their history. The ship passages, the first settling down in North America and the further developments as pioneers are researched on the basis of intensive and extensive research in historical documents (passenger lists, US and Canadian Census surveys, historical maps, etc.).
My contacts of many years, gained through genealogical research and personal visits, were very helpful. So my work found interest also in the USA and some "descendants" of the emigrants sent me fragments of their family history, family trees and picture material.
Listing
A listing (list) of all emigrants/immigrants listed and written about in the book can be found hereListing. (Link)
More information
Detailed information about the project can be found at this link; an extract from my book can be found at this link.
https://www.heinz-bernd.de/tr-literatur/tr_Tabener-Auswanderer/tr_Tabener-Auswanderer_Buchaus/tr_tabener-auswanderer_buchauszug.html
The bound, 340-page book (A4 format, 316 illustrations, 77 family trees, 485 sources) describes the history of the emigrated families.
Note: The book written in German. The family trees, lists of names, tables and graphics is but also for people with little or no German language skills very well understandable.
Please order the book by:

Bernd Heinz,
Auf Birk 17,
54441 Taben-Rodt
Germany
Tel.: 0049 171 348 6071
Email: post@heinz-bernd.de

Sales price per copy: 45,- EURO (cash) (July 2022)
plus packing and shipping costs
(April 2022: Shipping to US or Canada. Packing and shipping costs = 18 Euro )

I am especially pleased about orders from descendants of immigrants.
I would be happy to send the book to the US and CANADA or other countries.